Horsemanship
"Horses change lives. They give people confidence, hope, self-esteem and provide peace and tranquility to troubled souls."
The Eagle Mount Equestrian Center promotes safety and optimal outcomes in equine-assisted activities for individuals and families with special needs. We employ a Certified Therapeutic Riding Instructor and provide a professional caliber of training to all other staff members and volunteers.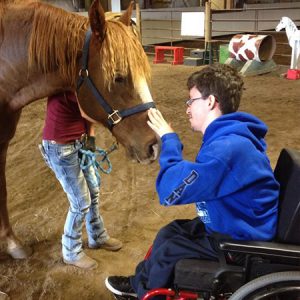 What are the benefits of Equine Assisted Activities?
A physical, cognitive, or emotional special need does not limit a person from interacting with horses. In fact, such interactions have proven to have major physical and emotional impacts.
Individuals of all ages who participate in Equine Assisted Activities can experience physical and emotional rewards:
Riding a horse moves the rider's body in a manner similar to a human gait, so riders with physical needs often show improvement in flexibility, balance and muscle strength.
For individuals with emotional challenges, the unique relationship formed with the horse can lead to increased confidence, patience, and self-esteem.
Partnering with equines also provides recreational opportunities for individuals to enjoy the outdoors as well as take pleasure in the interaction with animals.
Equine-Assisted Activities such as Recreational Riding and Equine Assisted Learning are available for:
Individual or group sessions.
Mounted or unmounted sessions.
Special groups.
Our traveling horses: Group, nursing, and retirement homes; Schools and other interested groups.
We are proud to be a 2021 EQUUS Foundation Guardian and share our horse care & use practices with the public.