Horsemanship
"Horses change lives. They give people confidence, hope, self-esteem and provide peace and tranquility to troubled souls."
The Eagle Mount Equestrian Center promotes safety and optimal outcomes in equine-assisted activities for individuals and families with special needs. We are a Professional Association of Therapeutic Horsemanship International (PATH, Intl) Member Center and employ PATH, Intl Certified Therapeutic Riding Instructors and Equine Specialists in Mental Health and Learning.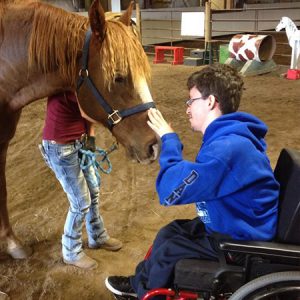 Equine-Assisted Activities such as Therapeutic Riding and Equine Assisted Learning are available for:
Individual or group sessions.
Mounted or unmounted sessions.
Special groups.
Veteran opportunities.
Our traveling horses: Group, nursing, and retirement homes; Schools and other interested groups.
Eagle Mount Equestrian Center 2020 Summer Programming Opportunities
This will be a summer of fun and fundraising to keep our doors open!
We will be providing limited programming this summer with extra protocols in place due to the current pandemic.   All activities will be subject to change during these uncertain times.  Registration is mandatory in order to participate in any of these activities. We will send additional protocol instructions to those registered before each activity. Our goal is to have fun and stay safe and healthy as possible.
Equestrian Center Protocols
Summer 2020 Equestrian Opportunities
To sign up, see participant or volunteer section below.
Contact our Equestrian Team for more info!
Heather Martin, Facility Manager & Program Coordinator:  [email protected]
Jenny Gooldy, Equine Manager & Therapeutic Riding Instructor: [email protected]
The Eagle Mount Equestrian Center is a
Center Member of PATH, Intl.